Bästa Kvalitet Olika Form Olika Color Cake Eraser
1. Item No.:XDDF
2.Brand: SOODODO
3. Material : TPR and Rubber
4. OEM:we can do according to customer's design
5. Color: various color for you as your requirement
6. Quality:we could pass EN71-1/2/3, no-Phthalate ,CPSIA test,environment friendly
7. Production capacity: 15 tons/day
8. Port: Ningbo and Shanghai
9.Packing: opp bag,pvc bag,blister card,gift box,cake box,opp bag + insert paper, foil bag
10. Payment terms: T/T 30% deposit,the balance should be paid before shipment.
11. Export experience: we have exported many different countries for many years.
12.Mold experience: we devote to 3D shaped eraser over 10 years.Mold control and cost control is the best in our field.
13.Design department:we have the best design team in package and product.
Erasers Information:
1.fritt prov
2.eraser fabrik
3.OEM / ODM accepterad
4.EN71 och icke-ftalatcertifikat
5. Högkvalitativt ECO-Friendly TPR Material
6.Lastaste fabrikspriset med olika, eleganta och modedesigner som referens
7. EN-71 & CPSIA Standard
Varför välja SOODODO 3D-formad suddgummi?
1.Hög kvalitet och billigt, jämfört med produkter från andra företag i samma
material Vår produkt har lägsta pris
2.High kvalitet material, vårt material miljöfritt blyfritt och giftfritt, överensstämmelse med
internationella miljösäkerhetsstandarder
3. En stor variation, vår 3D-formad suddgummi har unik stil och attraktiv design, lanserat
senaste exklusiva design månadsledande trend.
4.Bra tjänster, från orderproduktion packning försändelse att ta emot, fullständig kontroll övervakning
och spåra, för att undvika förluster och skador som ger kunderna problem
5.our company ägnar sig åt att designa och tillverka 3D-formad gummi över 10 år, vi bara
producera 3D-formad suddgummi.
Vad är SOODODO 3D-formad suddgummi användning för?
1.Den fina kontoret suddgummi är lämplig för skola, kontor , gåva , teckning , marknadsföring, undervisa , inte
Använd bara men har också funktionen av dekoration och underhållning
2. Våra suddgummi har en effektiv raderingsförmåga och ofarligt för papper
3.Produktmiljö. Materialet är TPR, är miljövänligare än andra
Företagsinformation :
1. Vi behåller fabriks- och handelsavdelningen .
2. 12 injektionsmaskin s , 5 mix färgmaskin, 6 varmtätningsmaskin
3. 100 fasta arbetstagare, 50 tillfälliga arbetstagare
4. Huvudklient: Mål, Wal-Mart, Dol l ortree etc.
5. Fabriken har certifierats enligt ISO9001 standarder
6.T housands of models är tillgängliga för c us tomers för att välja matchning.
7. Acceptera provorder
8. Fabrikspris med bästa exportservice och leveransgaranti.
9. 10 år hög kompetens inom gummiindustrin och export erfarenhet.
10. OEM & ODM välkomnas varmt!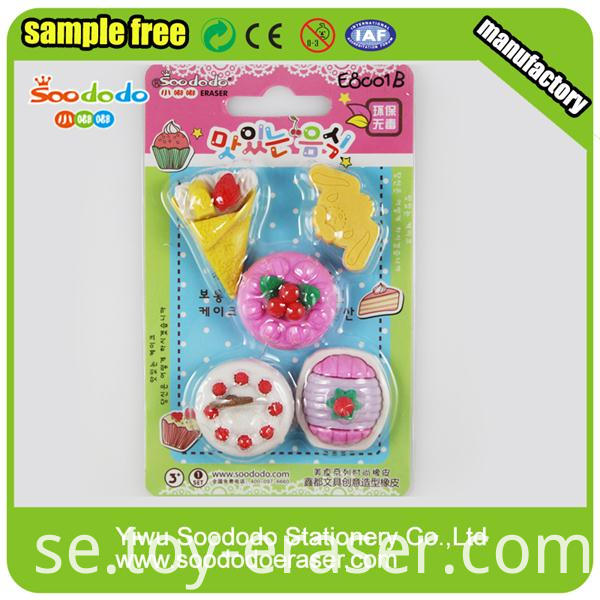 Produktkategorier : Mat som formade Eraser